It is a remarkable book published by Bernard Hasquenoph, a book that reads a treaty as a detective story, well that unfortunately based on real facts.
In response to the surveys published on its website Louvrepourtous, should logically lead it to intervene in schools of journalism.
Because it has not only proved method of intelligence and foresight, but also of courage and empathy with a Korean culture that drama led him to discover.
World exclusive, and with no way, it managed to trace the course of a business man, responsible for sect, condemned by the justice of his country, and who succeeds by any skilful manoeuvres and lots of money to expose as an artist.
Yet the supposedly artistic production of Ahae was recognized by almost no criticism or specialist of photography in the world.
It was later learned that this same individual was linked to the tragic sinking of a ferry that caused the death of many Korean students.
Bernard Hasquenoph survey reveals worrying flaws in major French cultural institutions (and at the top of the State), with a personal commitment of some of their main leaders which is hardly to imagine the equivalent in foreign cultural institutions of same reputation.
The holding of exhibitions at prestigious venues would have had only one purpose: "Swell" or overestimating the value of his pictures – the complaint speaks of "varnishes of legitimacy"–to justify their sales between the different actors of the traffic order to disbursing money, disguise it and thus escape from creditors (p. 287).
There is a contradiction between the ethical Charter with major cultural institutions Françaises and commercial actions and patronage conducted with Ahae.
The damage caused to the image and reputation of the Louvre and Versailles, in particular, is not negligible; and it then even the Ahae group still continues to avail their deposit (http://ahae.com/category/articles/).
Ultimately, these are customers who have been cheated. They are the victims: abused by renowned establishments that did move the rental of spaces for "real" exposures (p. 271).
M. Henri Loyrette, former president-Director of the Louvre, has seen its responsibilities reduced within the Admical (association dedicated to the development of du Mécénat d'Entreprise), l'affaire Ahae who helped discredit certain practices of patronage in the cultural sector.
But it remains to draw all the consequences from this sad episode, causing misunderstanding of foreign observers.
By this refusal to shed light, Ahae case will remain as a permanent spot on the noble cause of patronage (p. 292).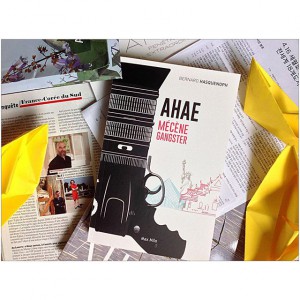 To get an idea of the judgements made by cultural figures on the author's photographs of an appalling banality, who had the honour (against hard currencies) to be exposed in the Louvre and Versailles, and failed to be elsewhere, reference may be made to the following documents:
Have these personalities called for the withdrawal of their testimonies of support of the site Internet of Ahae?