Starchitecture and tourism
June 15, 2015
Fondation Hellénique, Cité Internationale Universitaire de Paris
47 bis boulevard Jourdan, 75014 Paris, France
The 1990-2000 decade are characterized by a profusion of iconic projects, in a one-upmanship that has rarely been seen in any other period of the history of architecture, simultaneously fed by local decision-makers, capital flows and transnational classes.

In this context, global icons of architecture are territorial landmarks that affirm the identity and cultural vitality of an area.

Starchitecture owes its success to its ability to create the local while mobilizing the global; of "putting a city on the map" while at the same time integrating it into the global networks of the architects who build it, the capitals that produce it and the mobile, international tourism or professional classes which consume it.

On the opportunity of the launch of the book Global Icons of Architecture. The Iconic Architecture, the Global Architect and the Public Space (Ed. l'Harmattan, 2015), this day-long seminar gathers the authors to think the relationship between Tourism and Starchitecture.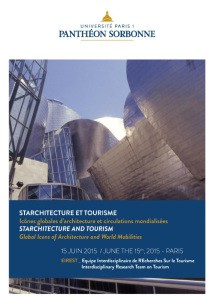 9.00am Welcome
9.30am "From Monument to Spectacle" – Joan Ockman, Director of the Temple Hoyne Buell Center for the Study of American Architecture at Columbia University's Graduate School of Architecture, Planning and Preservation
10.00am General introduction – Maria Gravari-Barbas & Cécile Renard-Delautre
Moderator : Jean-Michel Tobelem, director of Option Culture
Session 1. ARCHITECTS IN GLOBALISATION: TOWARDS A PARADIGM OF GLOBAL ARCHITECT

10.30am "The icon project: architecture, cities, and capitalist globaliIzation." – Leslie Sklair, Sociologist, London School of Economics and Political Science
10.50am « Jean Nouvel, figure française de la Starchitecture » – Cécile Renard-Delautre, Architect, Geographer, EIREST, Paris 1 Panthéon Sorbonne
11.10am "Starchitecture and the Transformation of Contemporary Cities" – Davide Ponzini, Department of Architecture and Urban Studies, Politecnico di Milano
11.30am Discussion
12-14.00pm Lunch
Session 2. ICONIC ARCHITECTURE AND URBAN SPACES, TOURISM

14.00pm « Starchitecture et espaces de consommation » – Caroline Lamy, Geographer, Director of Magdus and CL Outlet Consulting
14.20pm « La vie des icônes » – Guillaume Éthier, Urban Studies, postdoctoral fellow at the McGill Institute for the Study of Canada
14.40pm « L'innovation muséale, une manière de réinventer le développement local ? Metz et le Centre Pompidou, Lens et le Louvre » – Édith Fagnoni, Geographer, EIREST, Université Paris 4 Paris-Sorbonne
15.00pm « Architecture, musées, tourisme. La guerre des marques » – Maria Gravari-Barbas, Architect, Geographer, EIREST, Université Paris 1 Panthéon Sorbonne
15.20pm "Museums and patronage, what do we build next?" – Pablo Fuentenebro, Geographer, Endeavour Research Fellow at the Institute for Culture and Society, University of Western Sydney, Australia.
15.40pm Discussion led by Vincent Veschambre, Geographer, ENSAL
16.10pm Break
16.30pm
17.15pm Film : « L'expérience du Vide » – Ila Bêka & Louise Lemoine
Discussion on the film with Alain Moatti, Architect
18.15pm Cocktail
Contact
Cécile Renard-Delautre : cecilerenard [dot] archi [at] gmail [dot] com
Maria Gravari-Barbas : maria [dot] gravari-barbas [at] wanadoo [dot] fr